NFT
1989 Sisters NFTs owned by Celebrities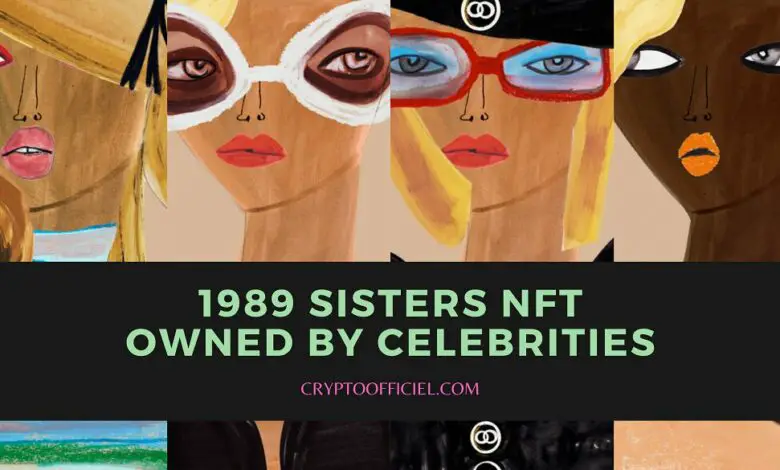 It's 2022, and for the uninitiated, there is still a looming fear surrounding the whole NFT ecosystem. While many new enthusiasts have taken great leap into NFTs and have already started to elevate their mere curiosity into viable investment, others still considers the space to be overcrowded – that it overwhelms them to make any sense out of it.
So, even if one get past the NFT spooking by mainstream media and educate itself about the underlying Technology, finding a good new NFT project on marketplaces is still a laborious task. And that's why the golden rule in the scavenger hunt of a new NFT project is to invest in the artist and team's vested goals.
Following Celebrities active in the NFT space is actually a great time-saver if someone wants to familiarize themselves with budding Crypto artist and digital illustrators and get a sneak peak into some of the most amazing artwork.
"1989 Sisters" NFTs is one such brilliant project which is slowly picking up steam, following recent celebrity induction into the sisterhood. We'll explore 1989 Sisters NFTs and list all the celebs who purchased or own a Sister NFT in their wallet.
Also Read: Boss Beauties NFTs Owned by Celebrities
What are 1989 Sisters NFTs?
1989 Sisters is a PFP NFT project on the Ethereum blockchain by Seattle-born fashion illustrator – Blair Breitenstein (@blairz). The collection has 1989 NFT assets which offers carefully curated hand painted art with each characteristic trait painted on paper, scanned and then layered through an algorithm.
The whole collection was launched on November 8th, 2021 and the 1989Sisters creator account got verified on Opensea Marketplace just three days later, on 11th November 2021.
Apart from the main 2K NFT collection, Blair Breitenstein also releases a real life painting of women celebrities in the style of Sisters, based off nominations in their Discord. The "Imaginary sisters" NFT Collection released so far includes: Paris Hilton, Jaime Schmidt, Rihanna, Kim Kardashian, Randi Zukerberg, Brit Morin, Shonda Rhimes, Reese Witherspoon, Elaine Ly, Kat Cole, Olsen Twins, Mila Kunis, Huda Kattan and Twiggy
1989 Sisters NFTs Owned by Celebrities
Reese Witherspoon – Sister #1441 NFT
Reese Witherspoon is an American actress and Producer, known for a successful acting career of over 40+ movies and 15+ TV series & going. She has won Numerous accolades in her 30+ year career including an Academy Award, BAFTA Award and Golden Globe Award for her performance in "Walk the Line".
A cultured aesthete, Reese is currently exploring the alluring world of NFTs, especially many up-and-coming Women-led NFT projects. In her Opensea Wallet, she currently holds 50+ NFTs, including the ENS "Witherspoon.eth" and three 1989 Sisters NFTs #1441, #575 & Sister #1308.
All three of these NFTs were purchased on 17 January, 2022 for a price of 5 ETH, 1.35 ETH & 2 ETH respectively. Out of these three, Sister #575 NFT is the rarest one, according to rarity tools.
Added a few more @1989sisters to my collection! Illustrated by @blondelasagna. Who else is part of the sisterhood?

Twitter @ReeseW
Snoop Dogg – Sister #1947 & 8 Other NFTs
Despite some contradictory speculations, American rapper "Snoop Dogg" is supposed to be the NFT art collector "Cozomo de' Medici" on the internet. Browsing his Opensea wallet, it is evident that the "grand patron of the digital arts", is a big collector of 1989 Sisters NFTs.
He owns a total of nine 1989 Sisters NFTs: Sister #404, #476, #741, #1104, #1229, #1311, #1521, #1873 and Sister #1947. Out of these, Sister #1521 is transferred to Cozomo_de_Medici's opensea wallet by British singer "Riva Taylor" and the most expensive purchase of the lot is Sister #1947, which he purchased for 5 ETH on January 16, 2022.
Rarest Traits in Sister #1947 NFT includes: "iconic french" headwear (Only 0.15% have this trait), "iconic french" shirt (0.20%) and the piece is "Double" iconic (1%), meaning it has two matching components.
I feel like @1989Sisters is going to surprise everybody

Twitter @CozomoMedici
Riva Taylor – Sister #971 NFT
Riva Taylor is a London-born English Pop-singer & songwriter, known for her popular album "This Woman's Heart". Having an association with many video games related projects, Riva keeps a keen eye on digital space, especially NFT arts.
Riva owns the ENS "rivataylor.eth" and currently has five NFTs in her Opensea Wallet address. Out of these, Sister #971 is her absolute favorite, which she even used as her profile picture on Twitter (@IAmRivaTaylor).
She minted this Sister on November 16, 2021 and the rarity traits of this NFT includes: Seventies glasses (4%), Orange Side Pony Hair (4%), Tongue Out Lips (8%), Red Bustier Shirt (4%) and Pale Peach Skin (18%).
Amazing to see all the new interest in @1989Sisters, a happy member of this collective of fashionable faces created by Blair Breitenstein

Twitter @IAmRivaTaylor
Brie Larson – Sister #1788 NFT
Brie Larson is a Hollywood actress who is known for winning Academy, BAFTA & Golden Globe awards for her performance in 2016 drama film "Room" as well as for her portrayal of superhero "Captain Marvel" in MCU.
She supports many female-led NFT Projects and owns a Sister #1788 NFT in her Opensea Wallet, which she purchased on January 20, 2022 for a price of 1.2 ETH. Properties of this Sister NFT includes: Pink Bangs Hair (3%), Pillowy Lips (8%), Fuzzy Cardigan shirt (4%) and Light Brown Skin (14%).
Love you @brielarson! Thanks for supporting so many women-led collections

Twitter @1989Sisters
Tiga – Sister #1296 NFT
Tiga is a Canadian musician, DJ and record producer of EDM, known for award winning albums like "Sexor", "Ciao!" and "No Fantasy Required". In 2021, he collaborated with AI artist Ivona Tau and fellow DJ Kolsch to release his "HAL1-HAL6///Pure Emotion" NFT Collection.
On his Opensea Wallet, Tiga owns his ENS "tiga.eth" as well as a Sister #1296 NFT, which he purchased for 1.99 ETH from American Singer "Amanda Palmer" on January 17, 2022. The rarity traits of this Sister NFT includes: Doll Looking Right Eyes (4%), Black Bowl Cut Hair (4%), Orange Lips (8%), Tie Dye Sweater Shirt (5%) and Peach Skin (17%).
Welcome! @1989Sister #1296

Twitter @Tiga
Holly Dolke – Sister #1848 NFT
Holly Dolke is a English Fitness Coach/Instructor and a social media personality with a massive 1.62 Million Subscribers on her YouTube channel and over 200K followers on her Instagram Handle @hollydolke.
On her Opensea Wallet address she currently owns "hollydolke.eth" ENS and a 1989 Sisters NFT #1848. She purchased this NFT on January 18, 2022 for a price of 5 ETH. This is one of the 20 rare "Double" iconic NFTs in the 2K collection with "Iconic white dot" fashion print on both glasses and shirt.
Sharing my first #NFT which is my fabulous sister from the @1989Sisters actually in love! And so excited to be apart of the community and #WomeninNFTs

Twitter @HDolke
Paris Hilton – Sister #496 NFT
Paris Hilton is a multifaceted celebrity who started as a Model, then an Actress, DJ & author, and currently sits as the Chairwoman and CEO of 11:11 Media, a multi-billion-dollar company. Named in the Forbes "50 most influential people in NFTs", Paris's Opensea wallet holds a collection of over 1.2K NFTs.
Amongst those is a recent 1989 sister NFT #496, which she purchased on 1 February, 2022 for a price of 1.79 ETH, which is also her new Twitter NFT PFP (@ParisHilton). Rarity traits of this Sister NFT includes: White Round Glasses (4%), Blonde Fluffy Hair (3%), Tiny Pout Lips (8%), Peach Asymmetric Tank Shirt (5%) and Pale Peach Skin (18%).
NewNFTProfilePic NFT by 1989Sisters – my first NFT profile picture! #womanInNFTs let's go

Twitter @ParisHilton
Huda Kattan – Sister #1697 NFT
Huda Kattan is an award-winning beauty blogger and the founder of the cosmetics line Huda Beauty. She also a social media personality with over 200K followers on Twitter, 4 Million subscribers on YouTube and a whooping 50 Million Instagram followers.
Passionate about the NFT space, Huda has collected over 250 NFTs in her Opensea Wallet , including four 1989 Sisters NFTs. She currently owns Sister #1652, #1697, #1972 and Sister #1324 NFTs from the 2K collection. She added these four NFTs in her collection on 28 January, 2022 for a price of 5 ETH, 1.8 ETH, 1.78 ETH & 1.7 ETH respectively.
Huda is also painted by Blair Breitenstein as the 12th Imaginary Sister in the style of 1989Sister artwork.
Huda is a role model for so many, including myself, and we are lucky to have her in the sisterhood. Welcome !!!

Twitter @1989Sisters
Brooklyn Beckham – Sister #1501 NFT
Brooklyn Beckham is a English model and photographer, known for his debut photography book Titled "What I See". Growing out of shadows from just being the eldest son of David and Victoria Beckham, Brooklyn (22) today is a social media personality with over 280K followers on Twitter and 13 Million followers on his IG Handle @brooklynbeckham.
On his Opensea Wallet, Brooklyn collected around 40 NFTs, among which is the ENS "busterbeckham.eth" and a 1989 Sister NFT #1501. He purchased the NFT on January 15, 2022 for a price of 0.38 ETH @$3,328.63/ETH.
Rarity trait of this Sister NFT includes: Red Lashes Eyes (4%), Brunette Crop Cut Hair (3%), Cigarette Lips (8%), Red Stripe Shirt (5%) and Warm Brown Skin (17%).
Just got x @1989Sisters

Twitter @brooklynbeckham
Elena Brower – Sister #178 NFT
Elena Brower is the bestselling author of "Art of Attention" and the host for "Practice You" Podcast. With over 200K followers on her Instagram (@elenabrower), Elena is also an International speaker & Well-being influencer.
Elena has been teaching yoga and meditation since 1999 and finds delight in Art and music. On her Opensea wallet she owns many women led NFTs, out of which two are 1989 Sisters NFTs. She purchased Sister #178 NFT on Jan 24, 2022 for 1.2 ETH (@$2,442.27 / ETH) and Sister #299 NFT on February 3, 2022 for a price of 1.75 ETH (@$2,697.18 / ETH)
Fell in love; collected this gorgeous piece of the @1989Sisters today #Sister 178. Also Sister #299! Reminds me of my mom at age 19

Twitter @ElenaBrower
Crystal Harris Hefner – Sister #1297 NFT
Crystal Harris Hefner is an American model and social media personality with over 530K followers on her official Twitter account (@crystalhefner), 3 Million followers on Instagram and 6.4 Million fans on Facebook.
She is an enthusiastic NFT Collector and currently owns "crystalhefner.eth" ENS and 20+ other NFTs in her Opensea Wallet address. On 15 January, 2022, she purchased Sister #1297 NFT for a price of 0.27 ETH ($900) and later sold the piece to "metahodler.eth" for a price of 1.39 ETH ($4300 approx.)
Missed the mint but that's ok. Was able to still grab a @1989Sisters highly recommend 10/10. So Excited!!

Twitter @crystalhefner
Eva Longoria – Sister #292 NFT
Eva Longoria is an American actress, producer, Director and co-founder of "Casa Del Sol". She has worked in over 30+ Movies and 25+ TV series since her career took off in early 2000s.
Currently she is considered as one of the most vocal celebrity supporter of women led NFT projects and owns quite a few in her Opensea Wallet address. One of which is the 1989 Sisters NFT #292, which she purchased on January 19, 2022 for a price of 1.4 ETH (approx. $4500).
For my second NFT purchase, I had to pick up this 🌈🔥 lady. Excited to be part of @1989Sisters, a female-led collection hand-painted by fashion illustrator @BlondeLasagna. Who else is in the Sisterhood?!

Twitter @EvaLongoria
Post Malone – Sister #1635 & 25 more NFTs
Post Malone is an American rapper, singer & songwriter, known for 30+ charted and certified songs worldwide. Amongst his numerous feat, Malone has won the "American Music Awards" in 2018 and 2019 for his studio albums "Hollywood's Bleeding" & "Beerbongs & Bentleys".
Post Malone is one of the most active celebrity NFT collector, owning over 130+ NFTs in his Opensea wallet. He also owns Twenty Six 1989 sister NFTs in the collection, making him the biggest celebrity supporter of the project.
The sister collection includes: NFT #1657, #219, #1414, #417, #876, #1734, #519, #189, #133, #547, #1760, #9, #34, #567, #1412, #1635, #249, #1653, #304, #489, #1278, #1593, #623, #626, #1835 and Sister #1866. All 26 1989 sisters NFT in Post Malone's wallet were minted on 10, November 2021.
Other notable personalities who currently owns one of more 1989Sisters NFTs includes the following:
Lee Trink

CEO, FaZe Clan
Brooke Wall

Founder The Wall Group
Taylor Steele

Filmmaker
Amy Griffin

Founder G9 Ventures
Richard Bengtson aka FaZe Banks

Youtuber & Co-owner FaZe Clan
Lauren Gallo

Nike
Alice Delahunt

Chief Digital Officer &
Chief Content Officer @Ralph Lauren
John Henry

Cofounder and Co-CEO of Loop