NFT
Trending
Boss Beauties NFTs owned by celebrities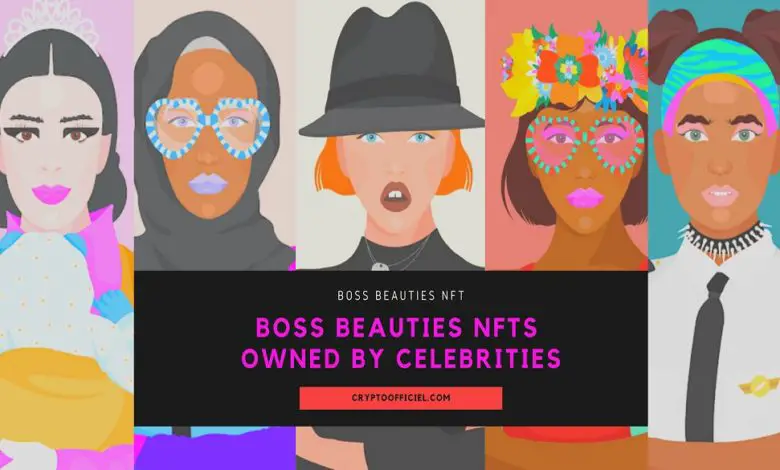 Following the aftermath of "2021 NFT Craze", there is seldomly anyone who hasn't searched or explored NFTs – the Collins Dictionary's word of the year for 2021; But despite this mainstream media attention and public engrossment, NFTs are still brushed off as just a "Right Click Save JPEG" thing.
More often NFTs create a buzz when it resurfaces in the public eye, following a Whale or Celebrity buying, selling or using them in their social media handle. Celebrity adoption of an NFT reinforces its viability amongst their followers and pave a way for the technology to thrive. Celebrities are also shaking the rallying cry against NFTs, as they are understanding and actively participating in many of their favorite NFT Projects goals.
Boss Beauties is one such NFT passion project, whose name became synonym with crypto art of the women, by the women, for the women. Within just 4-5 months of its launch, Boss Beauties has been featured on the Nasdaq Tower in "Times Square", became the first NFT ever to be displayed at the "New York Stock Exchange (NYSE)" and becomes a part of human history when it was chosen to be stored in the "Artic World Archive (AWA)", alongside monumental artifacts and art masterpieces.
In this article we will explore Boss Beauties NFTs and list all the major celebrities who owns and are part of this Marvelous BB NFT Community.
Also Read: 1989 Sisters NFTs Detail and List of Celebrities who owns it
What are Boss Beauties NFTs?
Boss Beauties is an all-female 10K NFT collection, incorporating unique, independent and diverse women from every sphere of works. This Ethereum based project is one of the few Non-fungible tokens that have gained massive traction both within the crypto community as well as general public, especially amongst womens.
This amazing women led NFT project is an extension of "My Social Canvas", a social enterprise by Founder and CEO Lisa Mayer, which is Inspiring and equipping Gen Z women to "Design the life and career they love", for the past ten years.
The journey of Boss Beauties in itself is nothing short of a feat, with the launch of 10,000 NFTs comes within just eight week of it's inception. Public sale of BB NFTs started on September 25, 2021 at 10:30 pm and by 12 am on September 26, 2021 (within 90 minutes), they were officially sold out.
Boss Beauties NFT Collection got verified on NYC based NFT Marketplace "Opensea" on September 27, 2021. It passed 4000 holders on October 30, 2021, just a week after its launch and surpassed 5,000 NFT owners by January 17, 2022.
Each Boss Beauties NFT possesses unique properties from the pool of 16 characteristic traits which determines the NFTs rarity. The 16 traits include: Background, Clothes, Eye color, Eye Shadows, Eyebrows, Eyes, Face Shape, Flair, Freckles, Glasses, Hair color, Lip Color, Mouth, Necklace, Nose and Skin Tone.
Artwork on the Boss Beauties 10K NFT Collection is done by "Marion BEN-LISA", a 26 years old graphic designer & Illustrator based in Provence, in the south of France. As for the future roadmap of the project, BB Holders can expect free additional NFTs to drop in Q1 of 2022.
Boss Beauties NFTs owned by celebrities
Allyson Felix – Boss Beauties NFT #4012
Allyson Michelle Felix is an American track & field athlete who has won multiple Olympic championships throughout her career. The athlete turned entrepreneur was named in Time magazine's 100 Most Influential People of 2020 and 2021.
Allyson is a proud owner of Boss Beauties #4012 and customized her Official Twitter (@allysonfelix) with this NFT profile picture. This Boss Beauties NFT is her first ever Non-Fungible Token Purchase and it has some rare traits like Matisse Background (only 2%), Olympian Clothes (1%) and Princess Flair (2%).
On Nov 10, 2021, she informed her massive 750K + followers about the purchase with following remark:
What's going on @BossBeautiesNFT Community?! This is the first NFT I've purchased and I love how it embodies the attitude I have when I compete. I'm sure it's the same attitude most women have in all areas of life. Graceful, poised and ready for whatever gets thrown at us.

Twitter @allysonfelix
---
Eva Longoria Bastón – Boss Beauties NFT #5253
Eva Longoria Baston is an American actress and producer known for her work in Hollywood films and Television series like "Desperate Housewives" & "The Young and the Restless" etc. She has won Screen Actors Guild, Bambi & People's Choice awards over her career and was nominated for the Golden Globe awards in 2006.
A strong advocate of NFT space, Eva owns Boss Beauties NFT #5253. This BB NFT has some rare properties like Fedora Flair (2%), RiRi Mouth (3%) and Actor Clothes (4%). A closer look at Eva Longoria's Opensea Wallet shows she owns NFTs from various other Female led projects like – CryptoChicks (#6028 & #9183), 1989 Sisters (#292), Long Neckie Ladies (#404), Three Flower girls and a World of Women (#6199) NFTs.
She purchased this BB NFT from Opensea user "BaconMagic" for a price of 2.47 ETH on January 29, 2022 and shared the news with her whopping 6.8 Million Twitter (@EvaLongoria) followers with following caption:
Picked up this @BossBeautiesNFT and I'm obsessed! & she's an actor!!

Twitter @EvaLongoria
---
Jade Roper Tolbert – Boss Beauties NFT #9244
Jade Roper Tolbert is reality TV star who participated in the 19th season of The Bachelor and later won the the 2nd season of "Bachelor in Paradise". She is also a social media influencer with over 1.4 Million followers on her IG (@jadelizroper) and over 170K followers on her official Twitter account (@jadelizroper).
Jade is quite active in Crypto and NFT Space, and is also a co-founder of @Sacred_Skulls NFT collection. She is passionate about NFTs, especially female led projects and owns quite a few herself. She owns a Boss Beauties NFT #9244, which she purchased for a price of 0.183 ETH. Some Rare traits of this NFT includes: Surfer Clothes (only 4% have this trait) and Pink Headband Flair (only 6%).
I joined the @BossBeautiesNFT family and felt like my beauty needed her moment to shine like she deserves! I love this women led project and everything it stands for. My 4 year old daughter helped me pick her out, too, which was so fun for us. #bossbeauties

Twitter @jadelizroper
Pia Alonzo Wurtzbach – Boss Beauties NFT #1594
Pia Alonzo Wurtzbach is a Filipino-German model & actress, who represented Philippines at the "Miss Universe 2015" pageant, where she was crowned the winner. The beauty queen has since then amassed a colossal fan following on all social media platforms: Instagram @piawurtzbach (13 Million), Twitter @PiaWurtzbach (790K) and Youtube @PiaWurtzbachOfficial (230K Subscibers).
A women empowerment role model, Pia currently co-hosts "Between Us Queens" podcast which inspires womens to be the best version of themselves. Pia also fully support the blockchain tech and NFT community and owns the ENS "yourhighness.eth".
Pia's Opensea Wallet shows that she currently owns 36 NFTs, among which is a Boss Beauties #1594 NFT. She purchased this BB NFT for a price of 0.4875 ETH on Nov 18, 2021 and this Asset has many rare properties like: Influencer Clothes (4%), DJ Flair (3%), RiRi mouth (3%), Army Tags Necklace (2%) and Night out eyes (5%).
Say hello to this beauty!! Just bought another NFT. This time from @BossBeautiesNFT. I loved her the minute I saw her. I'm always looking for projects that are aligned with my real life advocacies. Especially projects that empower women in the NFT space.

Twitter @PiaWurtzbach
Morgan Lake – Boss Beauties NFT #1356
Morgan Lake is a British track & field athlete, who has won gold medals at the "World Junior championship 2014" in heptathlon and high jump, and at the "European Junior championship 2015", in high jump.
Morgan owns and cherishes all her NFT collection and has recently added Boss Beauties NFT #1356 in the mix. This NFT has following rarity traits amongst the 10K Collection: Olympian Clothes (1%), Flash Pink Eye Shadow (3%), Flower Crown Flair (4%), Red Heart eyes Glasses (3%) and Pout Mouth (8% have this trait). On Feb 2, 2022, Boss Beauties official Twitter handle welcomed the Olympian into the BB Family:
We're SO honored to welcome Olympian @morgan_a_lake to the BB fam! Morgan is a total Boss Beauty IRL. She's using her voice to raise awareness of issues close to her heart, such as body positivity as well as social and racial justice. Morgan, you inspire us in so many ways!

Twitter @BossBeautiesNFT
Alexandra Wilkis Wilson – Boss Beauties NFT #9594
Alexandra Wilkis Wilson is a Serial entrepreneur who has co-founded many female-focused ventures like Gilt Groupe, GlamSquad, and Fitz. A double H – Harvard B.A. and MBA, Alexandra currently sits as the co-founder and MD at "Clerisy Capital", a private equity firm.
Her Twitter bio reads: "Serial entrepreneur, Investor, NFT enthusiast & champion of women" and in her opensea Wallet, one can witness many women led NFTs, Including a Boss Beauties NFT #9594. She purchased this Boss Beauties NFT on January 22, 2022, for a price of 1.225 ETH.
Rarity traits of this Boss Beauties NFT Includes: Clouds background (4%), Influencer clothes (4%), Bandana Flair (3%), Flash Pink Skin tone (5%) and Whateverrr! eyes (8%). She shared her desire to buy more of Boss Beauties NFT in her recent tweet.
I just had to pick up another @BossBeautiesNFT today.

Twitter @AWilkisWilson
Randi Zuckerberg – Boss Beauties NFT #5180 & 8202
Randi Zuckerberg is the founder and CEO of "Zuckerberg Media" and the elder sister of Facebook's CEO Mark Zuckerberg. Named in "50 Digital Power Players" by The Hollywood Reporter in 2010, Randi is some of the early adopters of Blockchain, Crypto and NFT space. In her own words: "One should familiarize with Blockchain, crypto and NFTs right now, to stay ahead of the curve for the future".
Currently Randi has collected around 117 NFTs in her Opensea Wallet, many of whom are from various female led NFT projects. Randi has bought 3 Boss Beauties NFTs in 2022: BB#5180 on Jan 5 for 0.32 ETH, BB#8202 on Jan 12 for 1.79 ETH, and BB#4643 is transferred to her on Jan 18.
She transferred the BB#5180 NFT to Opensea wallet rz2 on Feb1 and currently owns the other two Boss Beauties NFT. One of which (Boss Beauties #8202 NFT) has super rare "Caregiver" clothes trait, which only .69% of the collection has.
This 'Caregiver' @BossBeautiesNFT is really important to me. It reminded me of the quiet sacrifices caregivers make daily. This NFT was a gift to myself in a difficult time.

Twitter @randizuckerberg
Shira Lazar – Boss Beauties NFT #4453
Shira Lazar is a L.A. based Emmy-nominated Canadian host & interviewer, known for TV shows like "What's Trending" and as the Co-Founder of "Peace Inside Live". Named as Cynopsis "Top Women In Digital" and Huffington Post's "Women in Tech to follow on Twitter", Shira has over 350K Followers on her official twitter and around 135K followers on her IG handle @shiralazar.
A firm supporter of women's in crypto initiative, Shira's Opensea account has till now collected around 42 NFTs, including a Boss Beauties NFT #4453. She purchased this NFT for 0.185 ETH on December 21, 2021. Some of the rare traits of this BB NFTs are: Finance clothes (3%), Martial arts Flair (2%) and Flash Pink skin tone (5% have this trait). Boss Beauties official twitter welcomed her into the BB Community:
Welcome to the BB fam @shiralazar! You're a true Boss Beauty IRL. We couldn't be more excited to have you in our community

Twitter @BossBeautiesNFT
Joivan Wade – Boss Beauties NFT #1549 & 1662
Joivan wade is an English actor known for playing "Victor Stone/Cyborg" in the HBO Max series "Doom Patrol". The south london born actor is also the Co-Founder of @WallOfComedy and currently has over 280K followers on his official Instagram account @joivanwade.
Joivan Wade's Opensea wallet show that he has collected around 19 NFTs till now and among those are 4 Boss Beauties NFTs he bought in 2022: BB#4492, BB#1549, BB#3626 and BB#1662. Amid these four, Boss Beauties #4492 is super rare with "Astronaut helmet" flair, which only 0.53% of the collection has.
He purchased BB#1549 & BB#1662 on Jan 7 for 1.2 ETH & 0.295 ETH respectively and BB #4492 & BB#3626 on Jan 13 for 1.5 ETH &1.39 ETH respectively, .
Had to get a couple of @BossBeautiesNFT. Look out for this awesome project. Looking forward to watching the community build! #bossbeautiesnft

Twitter @JoivanWade
Ryan Sherriff – Boss Beauties NFT #8521
Ryan Sherriff is an American professional baseball pitcher for the "Philadelphia Phillies" of MLB. A NFT devotee, Ryan has collected 30 NFTs on his Opensea Wallet. He also owns both "ryansheriff.eth" and "kingsherriff.eth" ENS.
Ryan purchased Boss Beauties NFT #8521 on January 27, 2022 for a price of 1.52 ETH. Rare traits of this BB nft includes: Dual Ponys Flair (3%), Influencer clothes (4%) and Grrr Mouth (5%).
Gm fam. I picked up this @BossBeautiesNFT last night! She seems sassy. Whats a good name for her?

Twitter @KingSherriff
David Bianchi – Boss Beauties NFT #9323
David Bianchi is an American-Brazilian actor, known for Netflix's "Queen of the South", "Insatiable" and BET+ Series "Ruthless". Apart from his 100+ film and TV Credits, David is also the Director of "Break the bars", the first film with a red carpet in the metaverse.
David owns a total of 5 Boss Beauties NFTs, Three (BB#9358, BB#8925 & BB#5183) on his opensea wallet "DAVIDBIANCHI" and Two (BB#3873 & BB#9323) on his opensea wallet "BianchiVault".
Just snagged an amazing @BossBeautiesNFT I LOVE the HIJAB so much DIVERSITY! Such a rare trait only 41 total out of 10,000!

Twitter @davidbianchi
Maurice Harkless – Boss Beauties NFT #7420 & 3359
Maurice Harkless is an American-Puerto Rican professional basketball player for the "Sacramento Kings" of the NBA. He has amassed over 95K followers on his IG (@moe_harkless) and around 52K followers on his official twitter @moe_harkless.
He owns the ENS "moeharkless.eth" and has collected over 200+ NFTs in his opensea wallet. This collection also holds two Boss Beauties NFT, which he purchased on January 7, 2022. He purchased Boss Beauties #7420 for 0.37 ETH and Boss Beauties #3359 for a price of 0.5 ETH.
We love the @BossBeautiesNFT , appreciate it!

Twitter @moe_harkless
Hope you like this piece of content, featuring celebrities and notable personalities who are part of the amazing Boss Beauties NFT Community. If we missed any celeb, please mention their name in the comment section, we'll be happy to update the list.