Events
Best Crypto Events and Conferences in 2022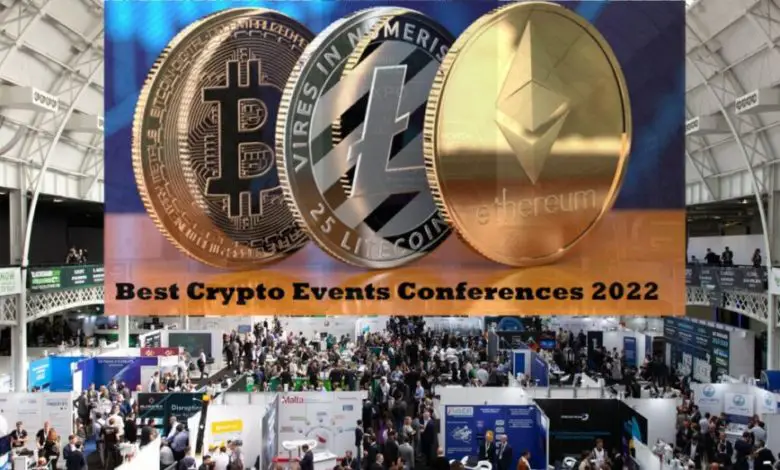 Planning to attend a Bitcoin or cryptocurrency event in 2022? From pro crypto traders to new blockchain enthusiasts, all should aim to attend at least one of the big 5 spectacle in the cryptocurrency world. We've listed all the events details like venue, date, schedule, speakers and Ticket price for all top upcoming crypto events in 2022.
For crypto startups looking for the perfect launchpad to showcase their product to industry leaders or bitcoin aficionado scanning the upcoming trend and buzz of 2022, all should book a registration ticket to any of these most anticipated crypto events of the world.
The North American Bitcoin Conference 2022
TNABC is one of the biggest Crypto event in the world, where blockchain innovators, industry leaders, and decision makers comes together to learn, network and innovate. The 3 day TNABC event in 2022 is scheduled for 17-19 January 2022 at James L. Knight Center in Miami, Florida.
The event is expected to attract over 5000 attendees and one of them stands a chance to win "To the Moon" Space Ticket Giveaway, sponsored by Astranaut. There are around 50 speakers at TNABC 2022 like Bitcoin Pioneer Nick Spanos, Peter Smith (CEO & CO-Founder Blockchain.com), Mark Cuban (Billionaire Investor), David Schwartz (CTO Ripple), Kathleen Breitman (CO-Founder Tezos), Craig Sellars (CO-Founder Tether), Maja Vujinovic (MD OGroupLLC) and Evan Luthra etc.
Event
The North American Bitcoin Conference
Dates
17-19 January 2022
Venue
James L. Knight Center,
Hyatt Regency Miami
Opening Hours
17 Jan 2022: 8am – 5:15pm
18 Jan 2022: 8:30am – 5:15pm
19 Jan 2022: 8:30am – 4:45pm
Type
In-person + Virtual
Contact
Btcmiami.com
Buy Tickets
Online
---
ETH Denver 2022
ETHDenver 2022 is one of the most anticipated Blockchain event this year, with a good mix of developer, creative, and marketing/business minds of both blockchain (web3) and web2 solutions. The main 2022 ETHDenver is an in-person event, scheduled from Feb 11th-20th, followed by a mountain retreat from Feb 21st-24th in Breckenridge, CO.
ETHDenver is free to attend for approved applicants and the Applications are open for everyone 18 and over. The one-of-a-kind extravaganza offers $500K+ in prizes & bounties and $2M+ in grant & investment opportunities.
Event
ETHDenver 2022
Dates
in-Person: 11-20 February 2022
Virtual: (Feb11-March25)
Venue
Denver Sports Castle,
1000 Broadway, Denver,
CO 80203, USA
Opening Hours
11-17 Feb 2022: Buidl Week (8am – 5pm)
17 Feb 2022: 8am-5pm &
5:30PM : ETHDenver Main Event Opening Ceremony
18-19 Feb 2022: 8am – 5pm
20 Feb 2022: 8am-2am
Type
In-person + Virtual
Contact
ethdenver.com
Buy Tickets
Online
---
Bitcoin Miami 2022
Bitcoin 2022 is the biggest cryptocurrency event of the whole year, with over 35,000 bitcoiners expected to attend along with groundbreaking trailblazers, innovative technologists, and unconventional entrepreneurs. The event is creating a lot of buzz this year with over 250+ sponsors, 3000 companies and around 500+ esteemed speakers.
Few of the biggest names already confirmed for the Bitcoin 2022 event includes: Jack Mallers (Founder and CEO of Strike), Nayib Bukele (President, El Salvador), Michael Saylor (Chairman & CEO, MicroStrategy), Adam Back (CEO Blockstream), Elizabeth Stark (CEO Lightning Labs), Caitlin Long (Founder & CEO Avanti) and Dhruv Bansal (Co-Founder & CSO, Unchained Capital) etc.
The ticket price registration for the event is: GA Pass for day 2-3-4($699), Industry Pass ($1,599), Sound Money Festival Pass – Day 4 only($99) and Whale pass ($13,999). You can save $100 when you buy with Bitcoin.
Event
Bitcoin 2022
Dates
6-9 April 2022
Venue
Miami Beach Convention Center,
1901 Convention Center Dr, Miami Beach,
FL 33139, United States
Opening Hours
Doors open at 8 a.m. each day
Type
In-person
Contact
https://b.tc/conference
Buy Tickets
Online
---
Paris Blockchain Week Summit
The Paris Blockchain Week Summit (PBWS), is scheduled to take place on April 12th & 13th 2022 with top-notch speakers gathered together at Station F, the World's biggest startup campus in Paris. PBWS is the flagship event of the annual "Paris Blockchain Week" and this year more than 3000 attendees, 70 sponsors, 250 speakers and 100 media partners are there to help you navigate through the blockchain industry.
The confirmed speaker list of the 2022 PBWS event includes: Tim Draper (Venture capitalist), Nicolas Cary (Co-founder and Vice Chairman at Blockchain.com), Ryan Selkis (CEO and Co-founder of Messari), Sébastien Borget (Co-founder and COO of The Sandbox), Karen Ottoni (Director of Ecosystem for Hyperledger), Paolo Ardoino (CTO Bitfinex) and Vijay Pravin (Founder & CEO bitsCrunch GmbH) etc.
The 2022 Paris Blockchain Week Summit (PBWS) is organized by ON-X Blockchain and Woorton liquidity provider. The early bird ticket price (as of 1st Jan 2022) for silver, gold and Platinum pass is €715, €975 and €2275 respectively. Developers and Student Passes are also available at a price of €325 and €50 respectively.
Event
Paris Blockchain Week Summit 2022
Dates
13-14 April 2022
Venue
Station F,
5 Rue Eugène Freyssinet,
75013 Paris, France
Opening Hours
Doors open at 8 a.m. each day
Type
In-person
Contact
[email protected]
Buy Tickets
Online
---
Blockchain Life 2022
Blockchain Life is the biggest event of the cryptocurrency industry in the Europe and CIS Region. The annul event attracts CEOs of international companies, business owners, startups, fund investors, Miners, Blockchain developers and over 5000 attendees from around the world.
The 2022 event will focus on the latest development in cryptocurrency, mining equipment, startup pitch & blockchain-business integration. And the ever growing list of acclaimed guest and keynote speakers include: Sergei Khitrov (Founder of Listing.Help and Jets.Capital), Vladislav Martynov (Investor & businessman), Gleb Kostarev (Binance Russia and CIS manager), Vadim Krutov (CEO Bitfury Russia) and Artem Kalikhov (СРО Waves Enterprise) etc.
The event is organized by Listing.Help (No.1 Agency for the Listing on Crypto Exchanges) and Jets Capital (Leading Venture and Crypto fund focusing on a blockchain technology, digital marketing, artificial intelligence, and VR/AR). The ticket price for the event is categorized into standard, business and VIP, Priced at $83, $216 and $627 respectively (as of December 31st, 2021)
Event
Blockchain Life 2022
Dates
20-21 April 2022
Venue
Music Media Dome,
Shosse Entuziastov, 5 стр.2,
Moscow, Russia, 111024
Opening Hours
Doors open at 8 a.m. each day
Type
In-person
Contact
[email protected]
Buy Tickets
Online
---
Stockholm Tech Live 2022 – Blockchain Summit
Experience the "next big thing" in Blockchain technology summit at "Stockholm Tech Live 2022", to be held on 11-12 May 2022. Though the event is centered on innovation in AI & BIG DATA, Cyber Security & Cloud, Startup Scaleup, IoT Tech, 5G and Smart city, development in Blockchain tech is expected to steal the limelight.
"Swedish Blockchain Association" is the official partner at the event and the the keynote speakers at the Blockchain summit are Dotun Rominiyi (Blockchain & Innovation Strategy Architect at London Stock Exchange Group), Annie Lindmark (Program Director, Vinnova) and Peter Altmann (Blockchain Expert, Senior Researcher at RISE).
Event
Stockholm Tech Live
Dates
11-12 May 2022
Venue
Nordic Live Expo, AB Stora Åvägen 21,
436 34 Askim, Sweden
Opening Hours
11 May 2022: 09.00 – 17.00
12 May 2022: 09.00 – 17.00
Type
In-person Expo
Contact Email
[email protected]
Buy Tickets
Online